How will mining activity affect access to the land?
Due to the nature of ISR mining there is no earth or rock movement, no blasting nor dust creation thus there will be very little impact on the future use of the area as a tourist facility, in the case of Kapunda but elsewhere, cropping or grazing animals can co-exist.
How many Bores and their associated Well Heads would there be?
The number of Well Heads is entirely dependent on the results of the Field Recovery Trial (FRT). They are installed with a drill rig in clusters called patterns, that usually consist of 4 - 5 injection wells and 1 production well.
The injectors will be spaced around 20m apart but this distance depends on the flow rate through the rock.
A number of patterns will make up a well field, how many patterns depends on flow rate and grade.
An FRT = 4 - 8 Wells in 2 Patterns
The total number installed in cycle over the life of the project could range from 50 to 500 but importantly there will only be a small number installed an operating at any one time.
Actual numbers can only be worked out after all testing is complete and would be available as part of the mining lease application and the operating Preparation of a Program for Environmental Protection and Rehabilitation (PEPR) under Department of Premier & Cabinet (DPC) requirements.
What does a Well Head look like?
This is all that is visible on the surface.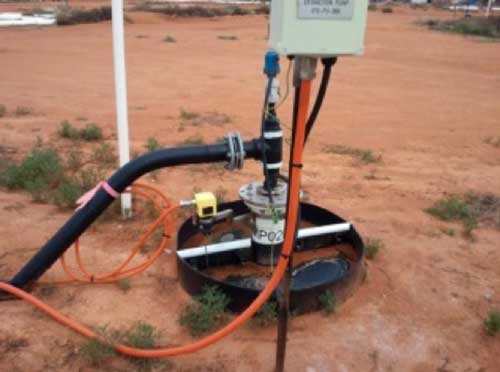 The Well Head sits on top of the Bore/Well. Piping enables lixiviant pumping or copper extraction, to/from the Well House.
A number of these are used to make up a "pattern".
How would any Bores/Wells be drilled; how would the bore material be disposed of?
Each Bore/Well will be drilled by a rotary drill rig, each bore is about 150 mm in diameter and around 120m deep producing ~ 18m3 of material, providing nothing toxic in the bore material, it can be disposed of in a waste facility. Otherwise disposal as per EPA guidelines.
At the completion of mining, Bores/Wells will be closed over and the plastic collars removed. The site will be rehabilitated as per State Govt. DPC guidelines ISM21 and MCR3RD2012B.
It is worth noting at this point that the current state of many historic mine sites would NOT meet DPC approvals for a rehabilitated mine.
How much infrastructure will be required?
Minimal infrastructure is required in ISR mining. All that is visible is a series of Well Heads in patterns, the Well Houses and a Processing Plant (industrial size shed - once an operation is to be established). Placement of plant and plumbing can be decided in consultation with the community.
Where would you most likely site the infrastructure?
Positioning of infrastructure is flexible, depending on community consultation, it can either be hidden away or could be integrated into a tourist experience.
What is the actual size of the containers for the Well House and Processing Plant and how high are they? Do they emit any noise?
Well House is contained in standard 12m shipping containers.
The Processing Plant would fit in a large industrial size shed.
Noise levels in the Well Field are minimal, noise levels in the Processing Plant would be similar to other processing factories, approx. 50dB (or loud conversation)
What's in it financially for the Communities?
Direct employment will be a key part of an operating ISR mine plus the ancillary services of accommodation, pubs, supermarkets and support services businesses would benefit.
What is the actual nature of the lixiviants?
Weak acid solution - Most ISR operations utilise a weak acid solution (~ pH 2.5 – 2.0).
This is the same pH as Coca Cola (pH 2.5) or lemon juice (pH 2.3).

Potential solutions are listed below: -
Sodium Thiosulphate is an odourless, white crystalline solid and has applications in water treatment, neutralizing bleach, leather tanning, gold extraction, photographic processing, and chemical heating pads. Thiosulphate is Biodegradable
Glycine is a colourless, sweet-tasting, non-toxic crystalline solid and occurs naturally in the human body. It is cheap, easily transportable and re-usable. Glycine is used as an additive in pet food and animal feed. For humans, glycine is sold as a sweetener/taste enhancer. Certain food supplements and protein drinks contain glycine. Glycine is Biodegradable
What responsibility does the company have in rehabilitation after mining?
All rehabilitation activity will be carried out in accordance to the approved Program for Environmental Protection and Rehabilitation (PEPR) as required by the SA Mining Act 1971 and under DPC Guidelines ISM21 and MCR3RD2012B.
Due to the "remediation" effect of ISR, after the operation is finalised ground water quality may potentially be improved.
What vegetation will grow after completion of mining?
Due to the minimal environmental footprint, the site will remain a natural bushland. In addition, due to the potential reduction of toxic copper levels, vegetation may flourish and improve.
What would the mine site look like after an ISR mine?
The advantages of ISR mining, also known as Invisible Mining, is that there is very little disturbance of the ground, surface or sub-surface. The injection and production wells would be cemented up and capped over. Well Houses, Production Plant and associated piping and infrastructure would be dismantled and moved to another mine site.
Before, during and after an ISR operation in Wyoming U.S.A.

Are there any other ISR mines operational in Australia/Internationally?
Yes, there are 2 Uranium ISR mine operational here in South Australia (Honeymoon west of Broken Hill, and Beverly Mine) and many operating throughout the world (Arizona, Wyoming, Texas, Kazakhstan).
There is only 1 other ISR mine for Copper extraction in Florence, Arizona USA.
Kapunda going ahead with a Field Recovery Trial would be an Australian first for Copper extraction.
Please note if "Googling" for ISR, many images will come up for Uranium mining which requires far more infrastructure than copper mining and should not be directly compared.
See Florence Copper Website for videos of a more accurate example of a copper ISR project.
Why mine copper now, is it still in demand?
Yes absolutley, presently copper is used in building construction, power generation and transmission, electronic product manufacturing, batteries, and the production of industrial machinery and transportation vehicles.
Copper wiring and plumbing are integral to appliances, heating and cooling systems, and telecommunications links used every day in homes and businesses. Internationally India and China's exponential growth is ensuring continued high demand for copper. Even with the recylability of copper there is a predicted short supply high demand gap in the coming years. In addition, consumers want ethically sourced copper.
And now an integral part of delivering environmentally sustainable energy.
In 2016, the South Australian State Government outlined its Copper Strategy, the aim is to triple the state's copper production by 2030. This target will require increases in production from existing mines of Olympic Dam and Prominent Hill but will also require additional new production to be brought online, new copper mines will have to be developed to meet the target.