News about EnviroCopper
Copper & Gold ISR Research Activity Updates
November 2021: We won the Premiers Award for Innovation and Collaboration in Resources Sector!
August 2021:- The next stage is to test the lab work results in-ground in a real time situation. The Site Environmental Lixiviant Test (SELT) will show if and how much copper can be extracted by the best environmentally friendly solutions. The planned site for this step is to access private land south east of the mine. Planned works to commence in September 2021.
This SELT step has been undertaking extensive approvals from the EPA, Dept. of Environment and Water and Dept. for Energy and Minerals for over a year.
In the meantime we are excited to partner with MinEx CRC on their Coiled Tube Drill Rig - advanced drilling technology that is far more targeted and efficient with a small footprint. The drill rig will be working in Kapunda from September 1st for a couple of weeks.
March 2021
CSIRO Land & Water's paper on Social License and Community Perceptions of ISR Mining published.
New papers have been published on groundwater modelling and fracture modelling by CSIRO and University of Adelaide.
November 2020:- Advertiser article 14th November 2020
August 2020:- Our first Letterbox Drop to keep all udpated and Uses of Copper today
April 2020:-
CSIRO research has shown that the natural groundwater in and around the minesite is very acidic (pH 2.9 – 4), is very salty and contains significant levels of copper. The natural composition of the rocks (pyritic) and exposure to rainwater and groundwater over the years has created sulphuric acidic naturally leaching the copper.
This explains the presence of the many green rocks and the green lake in winter.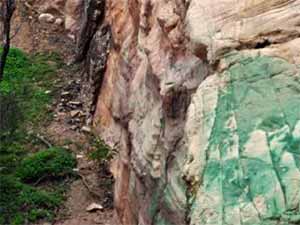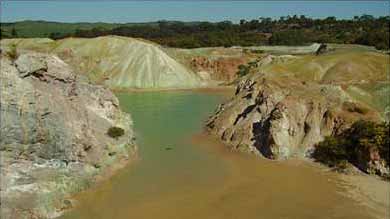 CSIRO laboratory work indicates choosing an acid based lixiviant system that breaks down quickly in the environment plus recovers copper will be the best choice to work with this normal groundwater environment i.e. work with nature.
University of Adelaide Geophysics studies have found that there is a natural impermeable rock barrier between the minesite and the Light River. This is very important to explain why the green lake in the minesite does not replicate in the Light River! Everything stops before then.
Regular environmental studies by CSIRO since 2018 of the Light River, show high salinity and low copper levels, that do not vary greatly over time.
Hydrogeological pump and tracer tests suggest that the parameters of the siltstone orebody seem suitable for ISR and some work will now to be carried out to investigate whether extracting copper from the natural groundwater might even be feasible. This work will look at copper cementation, Ion Exchange and Electro winning from the native ground water.
December 2019:-
CSIRO Social License Dr. Tom Measham has completed the Community Perceptions of Renewed Copper Mining Report which suggests that there is a reasonably positive feel from the community towards the project and this is confirmed by the general supportive responses of those townspeople that have come into the Kapunda office.
However there was also a clear message to us to be transparent; not to overstate the benefits and understate the risks.
"People generally felt that the project would only proceed if concerns were adequately addressed."
October 2019:-
Geophysics by University of Adelaide now completed showing marked anistropy between the mine and Light River limiting copper laden groundwater movement. This has been confirmed by CSIRO's Run of River seasonal surveys showing minimal copper groundwater inflows.
University of Adelaide has undertaken high resolution drone imagery of the main pit wall and have incorporated this with historical mapping into a 3D Model of the entire mine site.
CSIRO Minerals has undertaken small scale column leach tests, potentially giving us a selection of 3 environmentally benign lixiviants that react in different pH levels present at the mine site.
CSIRO Social scientists have undertaken Focus Groups and one-on-one interviews, to ascertain the level of understanding of this new style of mining and how the community feels about a renewed mining industry in the town and region. Formal reporting, once completed by respective organisations, will be made publically available in 2020.
April 2019 :-
The University of Adelaide has now undertaken 2 surveys of magnetotellurics (MT) over an area of nearly 40 square kms.
Three weeks were spent leaving sensors in specific sites around the surrounding area of the mine. The aim was to ascertain whether this technique will help monitor groundwater flows in the area. As this was a positive outcome they will now extend the MT surveys to wider areas around the mine site in April.
MT is the measurement of electrical resistivity of electric and magnetic fields. All around the world there are approximately 200 lightening strikes every second of every day, hitting the earth, which is a natural filter. These occur predominantly around the equatorial areas which have higher temperature and humidity differentials but radiate out to the north and south poles. MT measures these naturally occurring electrical and magnetic currents giving us information on various elements in the earth, e.g. water.
Accurate 3D modelling of the underground geology coupled with this new knowledge of groundwater flows is an essential step in the environmental assessment and monitoring process. This information will also show where and how the solutions will come into contact with, and hence extract the copper.
March 2019:-
CSIRO Land & Water (WAITE) undertook seasonal soil and water sampling from the the Light River in December and March, and again in August to ascertain environmental baselines. They will be looking for any contaminants in the soil and water like copper, salt, phosphates etc. These Run of River surveys will be repeated monthly.
The Light River never runs completely dry with a number of pools along its course. Why is this? CSIRO are able to assess and count the number of springs by ageing the water. The use of radon is a very good indicator of where springs enter the river system. Radon is used to measure where springs are. There are high levels of radon naturally in the groundwater. When the groundwater enters the river so does the radon but being a gas it evaporates into the atmosphere. So therefore the further you go down stream the less radon is present.
The higher the level of radon means closer you are to the spring source.
February 2019:-
CSIRO Minerals Division in Perth are undertaking ongoing testing of existing core samples for the most effective benign solution to extract the copper. So far this is proving very positive showing that copper leaches quickly and effectively into solution with a range of lixiviants (depending on the pH which varies at the mine site) including just with water. Recent tests have also shown that gold from the site leaches into solution, just how much gold is there is yet to be proven in the next research stages.
Interesting Facts
1. Did you know that Copper has antimicrobial properties? Ancient civilisations exploited the antimicrobial properties of copper long before the concept of microbes became understood in the 19th century. Copper is used in medical equipment today and scientists are also actively demonstrating the efficacy of copper alloy "touch surfaces" to destroy a wide range of microorganisms that threaten public health.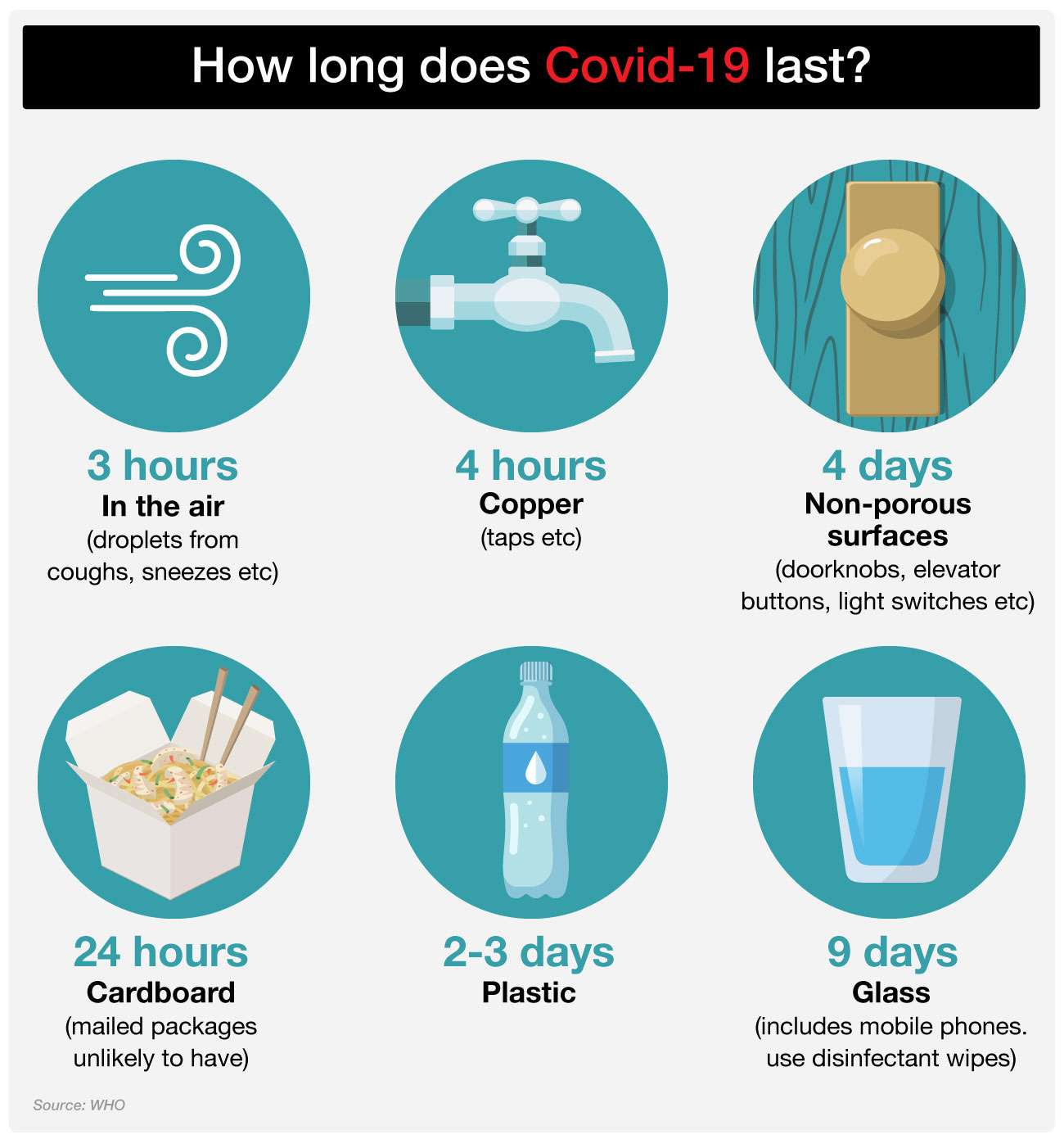 2. Why is copper so important now? Copper has been around forever, is recyclable and now an integral part of delivering environmentally sustainable energy to help reduce future green house emmisions by playing a large part in renewable technolgy,
"Renewable energy generation technologies, especially wind, ocean and solar installations, are copper-intensive and the important role of energy efficiency in the energy transition will also have an impact on copper use." European Copper Institute
For those of you in the Twitter world, follow us as well as @thinkcopper, @copperlife, @thinkcopperEU using #copper, #renewables.
Read the Latest Media
Visit the Barossa Herald Website to read the latest articles about the Kapunda Mine.
View ours and local Kapunda Facebook Feeds