Industry Information
ISR as an opportunity for Project Holders
Within tenements, there may be many issues that inhibit opportunities to conventionally mine projects; competing land use, excessive water and highly weathered rock make conventional mining uneconomic.
ISR is able to operate along side industries like farming, tourism etc. Expertise and understanding of ISR techniques allows for potential, profitable development of socially and geologically de-risked but stranded resources in the right host environment. It can now be farming and mining.
ISR as an opportunity to develop an economically sustainable mining industry
ISR offers a potentially lower capital expenditure to first cash flow with lower mining costs, related to the benefits of not having to move rock, no development of open pits or tailing dams. Because of this minimal ground disturbance, the land is returned to its previous condition quickly with much smaller mine closure and rehabilitation costs.
ISR operations therefore have the potential to be developed in a low cost, scalable manner that can respond quickly to the mining cycle. If a commodity price movement is evident, ramping up or down production can be as quick as turning on or off a series of wells.
In recent years the mining industry recognises that Social Licence and Community Engagement is playing an increasingly important part in mine development. Due to its low visible impact on the environment, ISR offers the perfect opportunity to develop projects within socially sensitive areas and can work along side farming and urbanisation.
Partnering with the best - CSIRO, University of Adelaide and Mining3
CRC-P Research Grant for $2.85 million, received in 2018 to advance ISR for Copper and Gold.
CSIRO have long recognised the challenges in ongoing profitable mining with consideration for economic, social and environmental impacts. ECR have been working closely with the CSIRO team to advance benign lixiviant technologies, in progressing what could be a step changer for the mining industry. It was CSIRO that coined the phrase "Invisible Mining".
We are at the forefront of collaboration with research and industry to further progress ISR as a viable mining alternative with our research CRC-P Grant. This CSIRO collaboration with Minerals Division and Land & Water invesitgated how copper extraction via ISR can be profitable within constraints of environmental issues and social license to operate.
Along with Mining3 (formerly CRC Mining) this will transform the initiative called In-Place mining to deliver smaller footprint and lower capital intensity.
The University of Adelaide complimented the CSIRO work by undertaking fracture modelling of the ore body and geophysics to not only further understand water flows within the water table, but lixiviant pathways through the orebody.
Published papers, to date:-
Mining Heritage & Community Indentity in SLTO of proposed ISR Mining
Modelling of Coupled Hydro-Thermo-Chemical Fluid Flow
Constraining regional scale groundwater transport predictions with geophysics
Economic Opportunities
ISR mine economics have substantial benefits over conventional mining in it's ability to deliver cost structures that are much less than open cut or underground mining.
Over the last 3 years, ECR have identified in excess of 50 individual prospects and geological regions within Australia which could be very favourable to ISR and currently in discussion with key investors and industry partners to further investigate these opportunities.
ISR also fits well with several state and government initiatives including the Federal Government's Innovation Strategy and the South Australian State Government Copper Strategy (released in 2016) which aims at tripling SA's copper production in 20 years to make the state the world's 3rd largest copper producer.
Other Copper ISR Projects
There are currently 3 developing projects for Copper ISR in Arizona U.S. These projects differ from earlier leaching projects of flooding old stopes with sulphuric acid and extracting the mineral, by now injecting solution through mineralised fracture systems via a Well Field.
The most advanced of these is Excelsior's Gunnison Project which commenced commercial operations in December 2019.
Taseko Mines' Florence Copper project has completed a successful Pilot Study and is advancing a permit amendment process to transition to commercial production. Copper Fox Metal's Van Dyke project is the third potential Copper ISR Mine, also in Arizona.
However it is worth noting that our Kapunda Copper ISR project will differ in that we will be using a selection of environmentally benign lixiviants (developed by CSIRO) to suit the pH of the surrounding groundwater, rather than changing the pH to suit the lixiviant.
Learn more about our ECR Expertise
"ISR has the potential to create value in projects where none existed previously"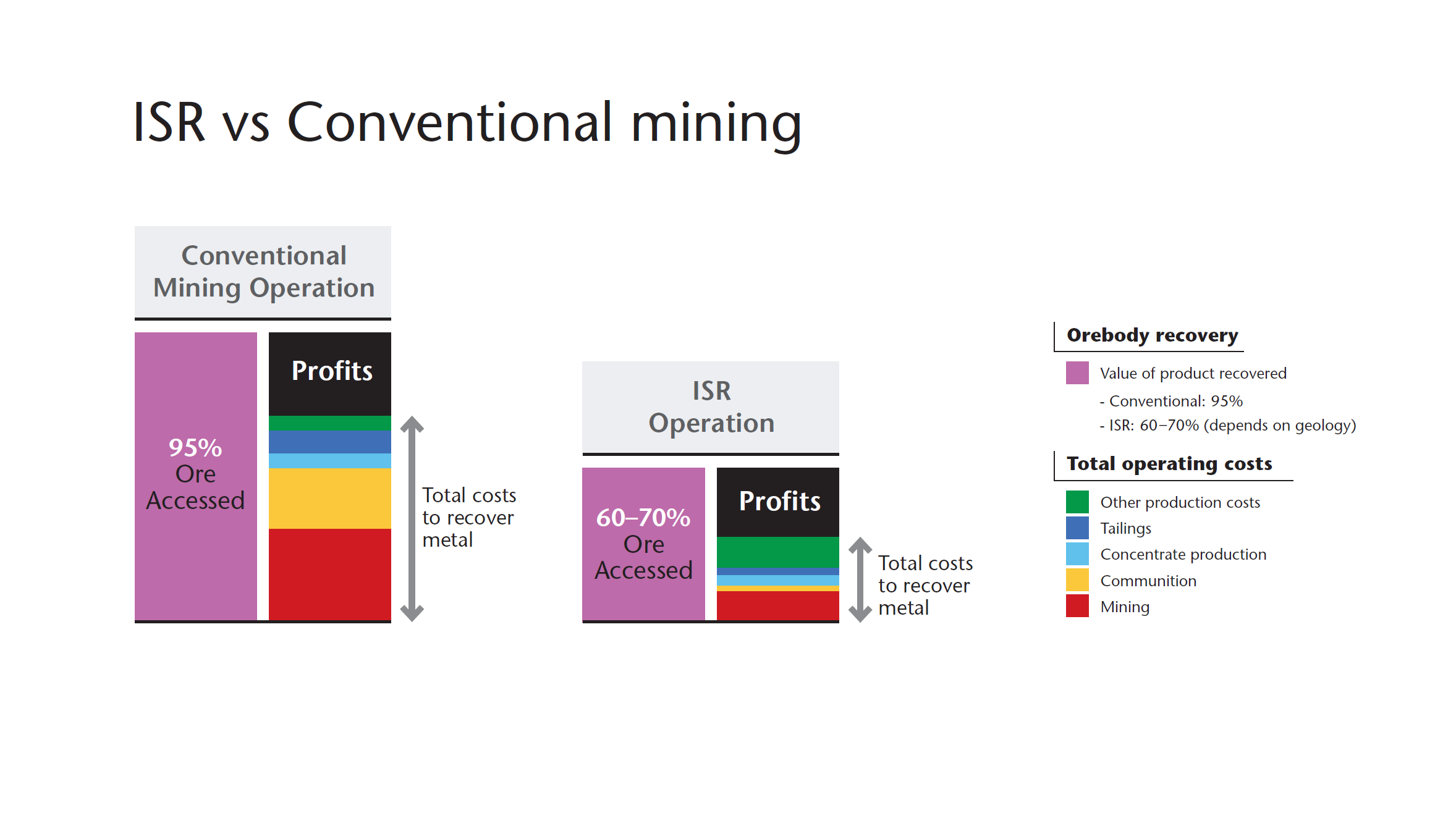 More about EnviroCopper