The

Alford West

Copper ISR Project
In‐Situ Recovery Potential
Envirocopper's second Copper & Gold ISR project after Kapunda is located on Yorke Peninsula, just north of Kadina.
EnviroCopper has secured a JV with Andromeda Metals (ASX:ADN) the owners of EL 5984, under our subsidiary Environmental Metals Recovery (EMR), over a small project area below.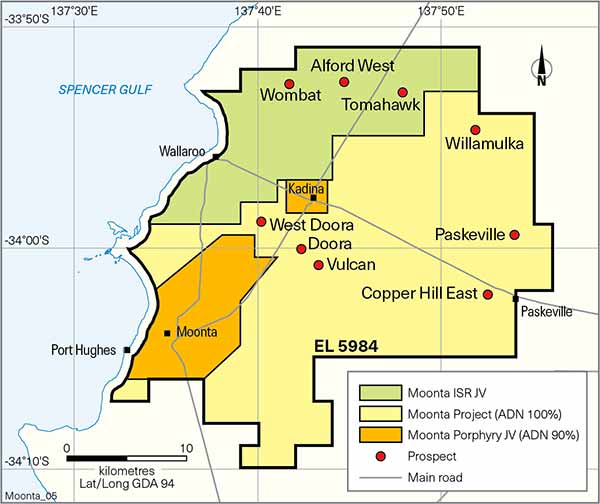 The tenement is highly mineralised and includes numerous historically mined deposits, as well as more recent copper discoveries including at the Bruce/Larwood and Wombat zones.
These zones are considered to have a number of critical attributes that may allow In‐Situ Recovery (ISR) copper production. Both deposits are characterised by deeply developed weathering troughs that extend hundreds of metres below the surface. The rocks to both the north and south of the weathering troughs are fresh and impermeable while the trough material contains copper mineralisation that is oxidised, porous and likely permeable, and is situated below both the water table. Both deposits remain open along strike, presenting opportunities to find further mineralisation in the trough extensions.
For further information please see Andromeda's website
Planned Work Program
The planned joint venture work program will initially cover laboratory‐based proof‐of‐concept testing where mineralised core & chip samples from previous drilling conducted at both the Wombat and Bruce deposits will be evaluated for the effectiveness of various lixiviants to extract copper and gold from the mineralised host rock.
Extensive environmental studies of the existing soil and water quality, similar to those undertaken at Kapunda, will also be undertaken.
Imperative to any of this work is an understanding of community acceptance. The recent experience at Kapunda shows that InSitu Recovery is an educational process, demonstrating to people the low environmental footprint and the minimal impact of ISR for Copper and Gold extraction.
Subject to satisfactory results being achieved, then field work and associated feasibility study work will be undertaken to determine whether a commercial operation to recover copper and gold using ISR methods is viable.
More about EnviroCopper